What Is Thermomix?
Thermomix is the world's most intelligent food processor with German design and innovation. It is 25 kitchen appliances merged into 1 compact kitchen machine.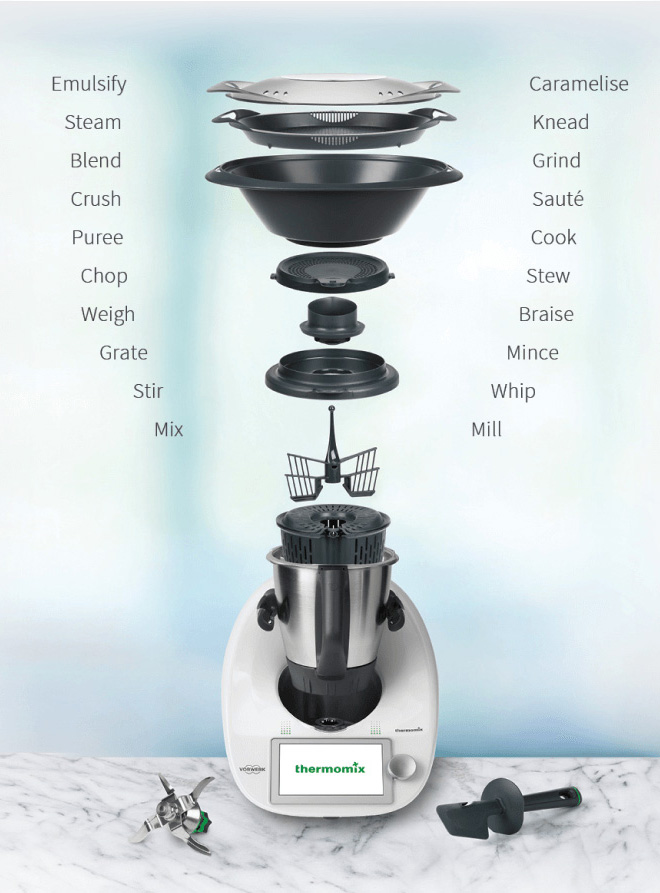 THERMOMIX TM6
Smart, connected appliance with WiFi connectivity built-in
Step-by-step guided cooking on 15.2cm x 20.3cm touch screen
Browse over 90,000 plus recipes on Cookidoo on touch screen
Integrated scales accurate to 1g
Comes with Varoma, MC, Splash guard, Steaming basket, Spatula
Comes with The Basic Cookbook including 120 recipes, pre-programmed into TM6
25 functions including sous vide, slow cooking and fermenting for making yoghurt

1 BLADE & OVER 20 FUNCTIONS AT YOUR FINGERTIPS
Everyone can cook with the Thermomix. The 6.8 inch touchscreen and a single selector dial allows the Thermomix to be operated intuitively. The 2.2 litre mixing bowl capacity can provide tasty meals for everyone, whether it's for one or a large family. The TM6 has 25 functions so you can blend, braise, chop, crush, caramelise, heat, knead, grate, grind, juice, mix, mill, mince, puree, weigh, whip, stir, steam, sauté, stew, slow-cook and sous-vide food quicker and easier than ever. An all-rounder that combines the functions of many appliances in one, it is everyone's perfect kitchen helper.
PRECISION COOKING FOR GUARANTEED & CONSISTENT RESULTS EVERYTIME
The time, temperature and speed controls guarantees consistent good results every time you cook. With over 12 million users, the Thermomix, a one bowl, one knife, over 25 functions smart kitchen appliance, has brought to life thousands of tasty cooking and baking ideas.
UNIQUE GUIDED COOKING FUNCTION
The TM6 has its WiFi connectivity built in. This connectivity and the large screen enable you to browse 90,000 recipes on Cookidoo, our online recipe library to find ideas and inspiration. The Thermomix Guided Cooking feature anticipates each cooking step ahead, making cooking so easy and effortless – even for people with no culinary experience.
THOUGHTFULLY DESIGNED
Thermomix saves you time and can help get dinner ready in minutes. It can also save you money, declutter your kitchen and improve your lifestyle. The possibilities are endless.
WHY I LOVE MY THERMOMIX?
It is the perfect kitchen assistant as it keeps me and my kitchen clean. It does not release harmful fumes or create any kind of mess during food preparation. The Thermomix also ensures that there are no oil splatters in my kitchen. For those who have limited time for cooking, the Thermomix can whip up your favourite dishes in a jiffy, while sparing you from having to stir after a long day. It's as simple as placing the ingredients in the Thermomix bowl, and with a touch of a button on the screen, my meal is ready for the whole family!
SOME THERMOMIX WONDERS
Peel & Chop Garlic in 5 seconds
Mill Sugar in 2 seconds
Squeeze Lemonade in 4 seconds
Prepare Bread Dough in 2 minutes
Cook Congee in 15 minutes
Cook Curry Chicken in 15 minutes
Make Fish Paste in 3 minutes
Prepare Baby Food in 10 minutes
BOOK A THERMOMIX EXPERIENCE
In less than 2 hours, you will experience the versatility of Thermomix as we prepare 5 delicious dishes, from starters to dessert for you.